I love these light and crispy waffles. Our waffle recipe is quick and simple to make and produces the best light and crispy homemade waffles.
If you are looking for light and crispy waffles then you are most certainly in the right place. I love my waffles to be on the thinner side. Our recipe makes four to five thin waffles (maybe 1/2-inch thick). If you are looking to make Belgian waffles or are using a deep waffle iron, you will probably get around three waffles from our recipe below.
Waffle Batter Ingredients
Let me walk you through what you will need so you can say goodbye to flavorless, floppy waffles and hello to waffles that are light and crispy on the outside and chewy in the middle.
All-purpose flour is my go-to flour for these waffles. You can try whole wheat flour if you'd like, just expect the texture to be a little heavier.
Cornstarch is our "secret ingredient" for making the crispiest waffles. Mixed with flour, cornstarch guarantees that your waffles will be perfectly crisp on the outside and tender on the inside.
Baking powder and baking soda help the waffles rise and brown. For the lightest waffles, I recommend using both.
Sugar, salt, and vanilla extract provide lots of flavor. I keep the sugar amount low since I love pouring maple syrup on top, but for sweeter waffles, you can increase the sugar. I call for 1 tablespoon, but adding an additional tablespoon wouldn't hurt.
Milk and oil are the liquid components to the recipe. You can use regular milk or non-dairy milk. As for the oil, I stick with something that tastes neutral like grape seed or safflower oil. For a coconut flavor, you could try melted coconut oil. If you are wondering about butter, you can use it, but the oil will produce a more light and airy waffle.
Egg adds tenderness and provides structure. Just one egg does the trick. If you want waffles without eggs, you can substitute with a flax egg.
How To Make Buttermilk Waffles
Since sharing our waffle recipe, many of our readers have asked if our waffles recipe can be made using buttermilk. The answer is 100% yes! Since we rarely have buttermilk in the fridge when waffle cravings hit, we thought it was important to share how to make them without buttermilk, but the great thing about this recipe is that you can use regular milk, non-dairy milk, and even buttermilk.
Step By Step Method For Making Waffles
The process for making these waffles could not be simpler. Let me walk you through how I do it:
Whisk the dry ingredients together. That's the flour, cornstarch, baking powder, baking soda, and a touch of salt.
Whisk the wet ingredients together in another bowl or do what I do and whisk them right in a measuring jug. Hooray for less dishes!
Combine the wet and dry ingredients. I whisk until I no longer see streaks of flour. If there are a few small lumps of flour left, that's okay.
Set the batter aside for 10 minutes. In this time, you can preheat your oven (I talk about why below) as well as your waffle iron. The 10 minutes of rest time allows the baking powder to activate.
Cook the waffles. I use about 1/2 cup of batter for each waffle, but the amount of batter will depend on your waffle iron.
Transfer cooked waffles to a warm (200°F) oven so they stay warm and crisp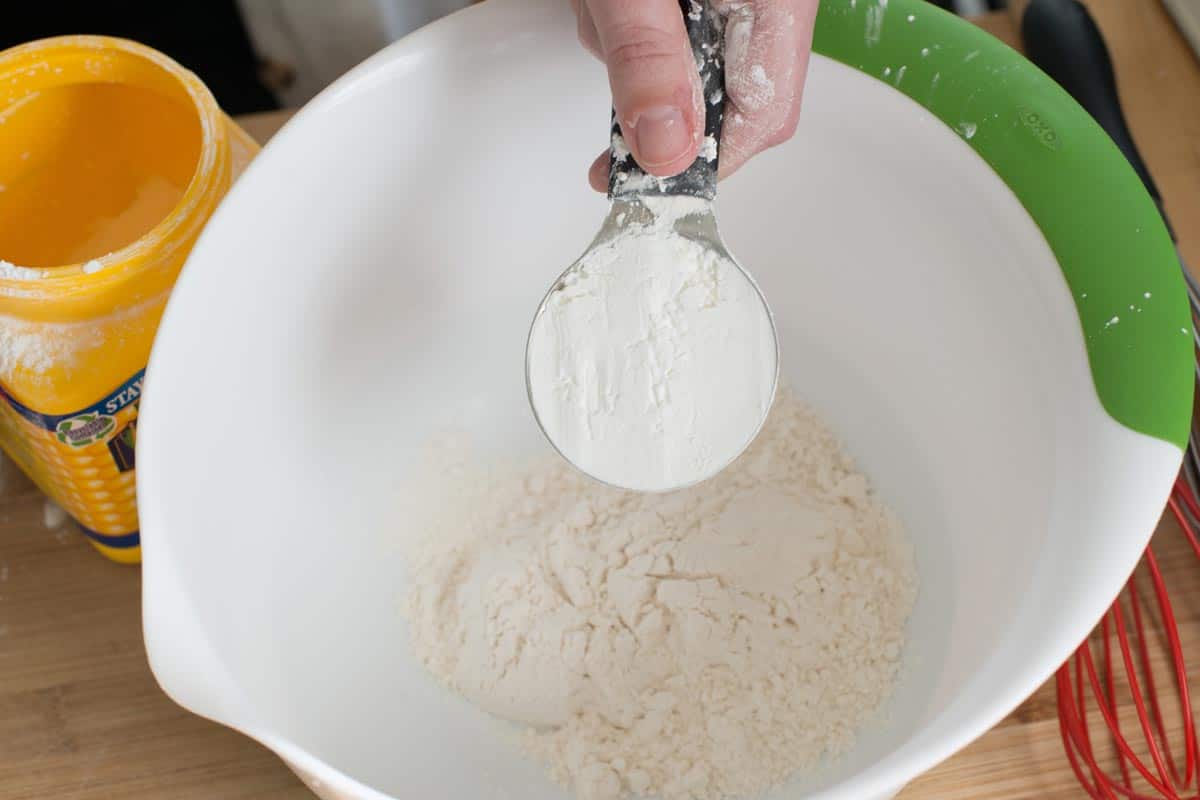 The combination of flour and cornstarch guarantees light and crispy waffles.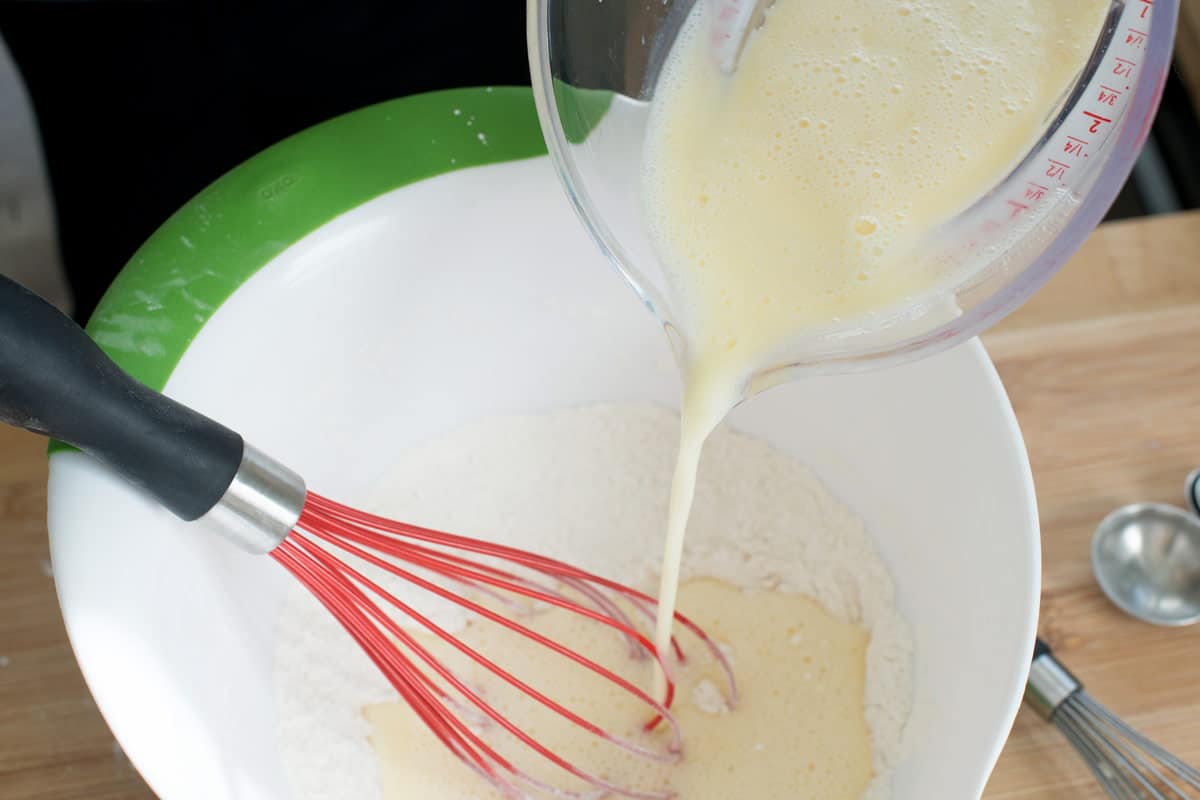 For light and airy waffles mix the batter until just combined, there's no need to over whisk the batter.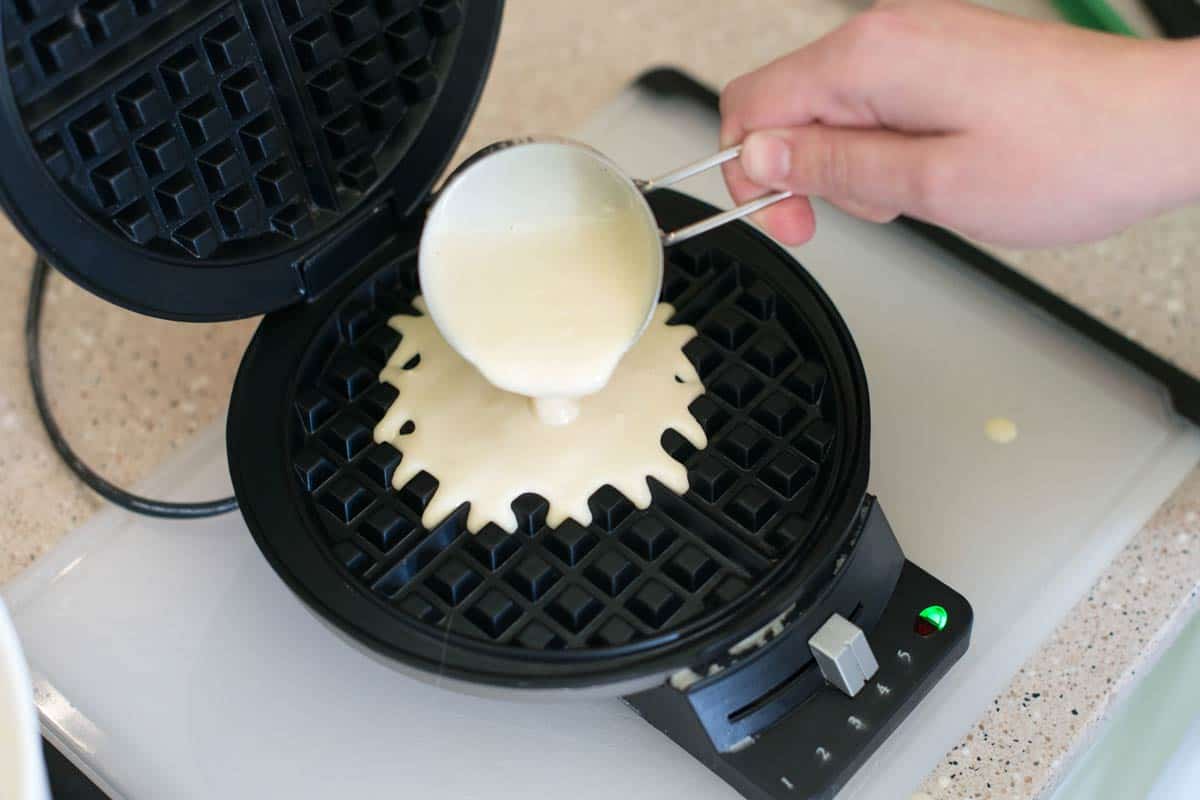 I love my waffles on the thinner side and find a regular waffle iron is perfect for this recipe.
As waffles sit, they loose their crispness. To prevent floppy waffles, keep the cooked waffles in a warm oven while you finish cooking the rest of the batch.
More Of My Waffle Tips
Don't overwork the batter. Just like pancakes or muffins, you want to be gentle when mixing the wet and dry ingredients together. Only whisk or stir until just mixed — no need for beating here.
Be prepared to throw away the first waffle. Unless you know your waffle iron like the back of your hand, you'll probably need the first waffle to test out temperature and cooking time. After the first waffle you should have a better understanding of the amount of batter to add (ours takes a 1/2 cup of batter), the best heat setting and timing.
Before you start making your waffles, heat the oven to 200° F. Once each waffle is done, set the cooked waffle directly on the oven rack to keep it warm and crisp. Repeat with the remaining batter, holding the waffles in the oven (try not to stack them). The extra few minutes in the oven adds even more crispiness to the outside of the waffle and keeps them warm for serving.
For extra light and crispy waffles, separate the eggs. Mix the yolk into the wet ingredients. Then, whip the egg white until stiff peaks form. Once you've combined the dry and wet ingredients, fold in the beaten egg whites. Separating the egg and beating the white adds airiness to the waffles and makes them extra light.