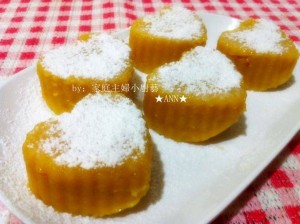 ♦ Jingua mud 300g
♦ Sticky rice noodle 220g
♦ cassava flour 40g
♦ Fine sugar "Fine Sugar" 100g
♦ Fresh water 270ml
♦ Shredded coconut / powdered sugar appropriate amount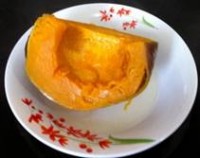 Steam the pumpkin and press it into puree.
Mix all the ingredients "except shredded coconut/sugar powder" and stir into a batter.

Take out the larger plate or model and pour the batter.
Put the 'turn off the heat and cook again' on the pot noodles and steam over high heat for 20-25 minutes or until cooked.

Take it out and let it cool. Dip a little shredded coconut/icing sugar and serve.

Want to know more: http://qr.net/lYhF